What is the difference between Gemstone and Crystal? "Revealed"
What is the difference between Gemstone and Crystal? "Revealed" is the topic for this article today.
Gemstones are rare and highly-priced.

They are commonly used for making jewelry and decoration pieces.

On the other hand, crystals are well-defined solids that contain atoms, ions, or molecules, which give them a well-defined three-dimensional shape.

Both of them are unique, pretty expensive, and aesthetically pleasing.
When you hear the word Crystal and Gemstone, you might be thinking of something magical and very much costly. 
For a moment, we think that Crystal and Gemstone are the same things, but actually, they have a lot of differences between them.
Both of them are frequently used in various applications in today's world and also in ancient times.  Gemstones are mostly used in jewelry and decoration pieces, and on the other hand, Crystal has applications in processes such as healing, making jewelry, decoration pieces, and other scientific purposes.
A gemstone can be called a crystal, but a crystal cannot be called a gemstone. If you want to know some of the major differences between Crystal and Gemstone, then read this article till the end.
Crystals 101: The Difference between Crystals and Gemstones
What Is A Gemstone?
These are very rare minerals that are often found in the ground. Gemstones are then cut into pieces and polished into decoration pieces and jewelry.
You need to know that not all gems are minerals; for example, lapis lazuli is a rock, and amber or jet are organic materials. The list of precious gemstones includes emerald, ruby, sapphire, and diamonds, other stones are classified as semi-precious gemstones.
The major criteria used for classifying gemstones are their color, hardness, and transparency.
You need to know that gems can also be with mineral bases like rubies or diamonds, and they can also occur with organic bases like amber.
For classifying gemstones species or varieties, geologists use their chemical composition. The price of a gemstone is based on the color, cut, hardness, composition, and rarity.
What Is A Crystal?
Crystals are considered pure substances with atoms, molecules, or ions arranged in a special ordered pattern, and they are extended in all three spatial dimensions.
Crystal formation is known as crystallization or solidification, it by the mechanism of crystal growth.
When it comes to crystal symmetry, it demands that the unit cells be stacked perfectly with no gaps. They can be in different shapes, such as orthorhombic, cubic, hexagonal, tetragonal, and monoclinic shapes.
Generally, crystals are translucent and lighter in color; the color of any crystal is primarily determined by the light passing through it. Compared to gemstones, crystals are less expensive, and the common examples of crystals are Citrine, Fluorite, salts and snowflakes.
What Are The Most Popular Crystals?
The world of crystals is overwhelming. Amethyst, Rose quartz,  clear quartz, etc., are some of the very popular crystals.
Amethyst
This one is a very popular crystal and a purple variety of quotes known to occur in Brazil and Uruguay.  as we know, quartz normally has a clear color. Still, amethyst gets its color from natural iron added in the Quartz crystal.
The more low-level radiation this Crystal has been exposed to over a million years, the darker the color is. Until 18 century, it was the most valuable Crystal, and in addition to Brazil, this is found in other countries such as Mexico, South Africa, and Namibia.
Azurite
This Crystal has a vibrant blue color and is a copper-based mineral. The blue color of this Crystal is exceptionally deep and clear; it has also been used as a popular painting pigment. Crystal has an interesting azurite formation known as disc-shaped as a right and is found exclusively in a Copper mine in Australia.
Citrine
it is one of the most popular crystals globally; natural citrine is very rare and yellow.  The Crystal is naturally formed as smoking quartz and is slowly heated inside the earth, so this Crystal contains a smokie effect within it.
Fluorite
In a wide range of colors and crystal habits, fluorite tends to be highly fluorescent under UV light. The colors seen most frequently are green and purple; however, yellow and purple may be observed too, giving the Crystal an appearance similar to a rainbow. This one forms natural cubic, octahedral and dodecahedral crystals.
If you are enjoying reading What is the difference between Gemstone and Crystal? "Revealed" I know you will love What Are Your Crystals Meaning and Uses? "It's More Than Just Healing"
What Are The Most Popular Gemstones?
Tanzanite
it was discovered in 1967; tanzanite is a gemstone found only in Northern Tanzania in the foothills of Mount Kilimanjaro. This Gemstone has a deep blue and violet color different from sapphires, and it is very costly.
Black Opal
The most desired and valuable gemstones in the world include and black Opal. This Gemstone has a dark body which gives a perfect backdrop for the amazing colors. These stones are most commonly found in the lightning Ridge area in New South Wales and are also considered one of Australia's National Treasures.  the most precious black Opal in the world is Royal one valued at dollar 3 million
Red beryl
Found in the Utah region in New Mexico in the mountains of Wah Wah, red beryl is a gem of quality. Red beryl is one of the rarest beryl family and is also known as red emerald. The pre-of this one may reach up to $10000 per carat.
Musgravite
This Gemstone known as Musgravite was first discovered in 1967 in Australia. The name is originated from the Musgrave region, where it is found. Only eight gem-quality stones musgravite stones were mined in 2005. And this indicates that these stones are very rare. They are found in various colors, such as olive green to greyish purple. Since this one is very rare, it's difficult to tell the price, but experts generally say that the price is close to $35000 per carat.
I found another article I thought would be very interesting Difference Between Crystal and Gem.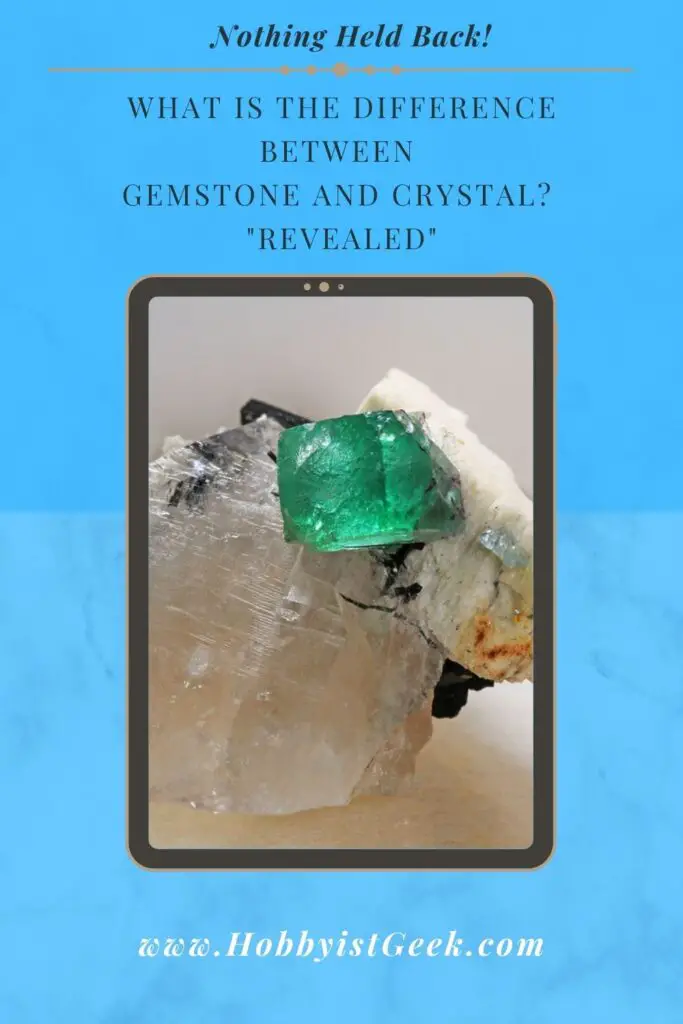 Final Thoughts On… What is the difference between Gemstone and Crystal? "Revealed"
We discovered that gemstones are rare and expensive and crystals are well-defined solids that contain atoms, ions, or molecules, which give them a well-defined three-dimensional shape.
Frequently Asked Questions
Which one is, more expensive a crystal or Gemstone?
Gemstones are more expensive than crystals.
Are all crystals gemstones?
A gem can be a crystal, but a crystal will not always be a gem. Because crystals are defined as solids made up of atoms, molecules, or ions
Which one of them has more bright colors?
Gemstones are more colorful; they can be found in many colors, such as red and green. Gemstones have more than one color like Opal also exist. On the other hand, crystals have light colors.
Which one is used more commonly in jewelry?
Gemstones are very commonly used in making jewelry because they are very precious. Crystals are more commonly used in scientific experiments, and they have healing properties.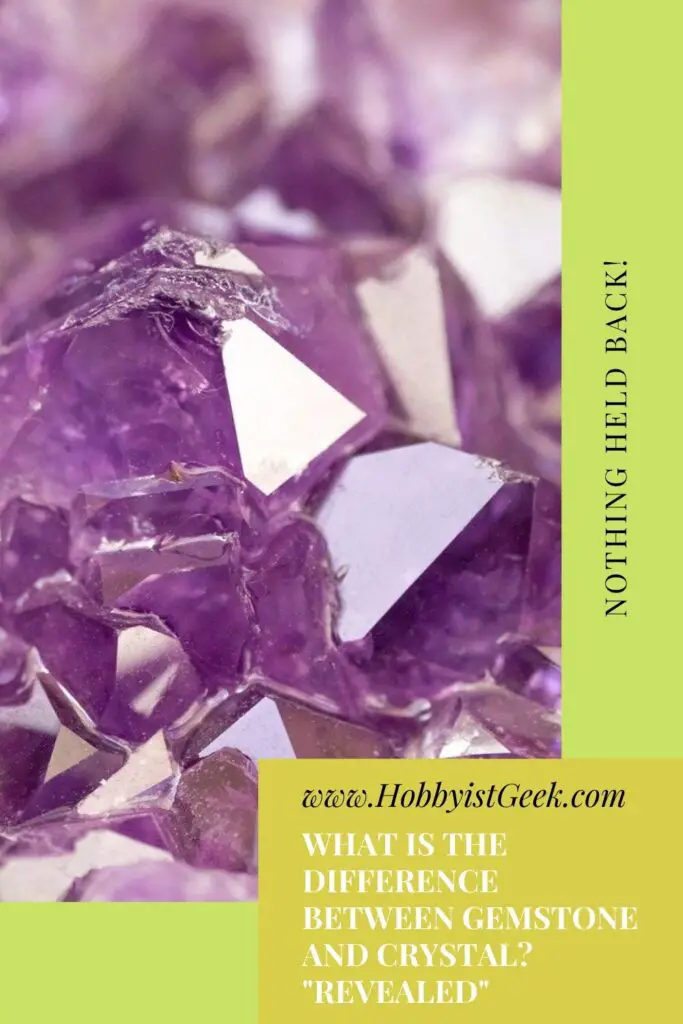 Sources
http://www.differencebetween.net/object/comparisons-of-food-items/difference-between-crystal-and-gem/#:~:text=Gems%20are%20beautiful%20stones%20that,organic%20base%20such%20as%20amber
https://askanydifference.com/difference-between-crystal-and-gem/#:~:text=The%20difference%20between%20crystal%20and,not%20be%20called%20a%20crystal
https://www.tinybandit.com/blog/crystals-vs-gemstones
https://www.tejasbeads.com/blogs/the-geologist/the-difference-between-crystals-and-gemstones
https://www.fossilera.com/pages/most-popular-crystals
https://www.google.com/url?sa=t&source=web&rct=j&url=https://www.thepearlsource.com/blog/most-valuable-gemstones/&ved=2ahUKEwi435j_1Mr0AhUQMewKHaz-ARwQFnoECBYQAQ&usg=AOvVaw2V-w2fbENYD0oE1p6HbYW9