Where To Hang Hamsa Hand In Your House? "9 Facts You didn't Know"
Where To Hang Hamsa Hand In Your House? "9 Facts You didn't Know" This will be the topic for today's article.
Would You Like to Hang the Hamsa Hand in House or office?
The Hamsa Hand is a popular symbol and many people like to hang it in front of their houses and offices to keep away all the evil powers and welcome good luck, prosperity, wealth, and peace.
The Hamsa Hand symbol wall hangings have become very popular on the internet as well as locally these days.
These amulets are now available in different color combos and a variety like never before. Different religions have made separate designs that somehow relate to their ethnicity.
It may consist of a single hand or several hands grouped with the symbolic eye attached to them. The size and sequence of the hands may vary.
What Is The Meaning of the Hamsa Hand?
Originating from an Arabic word "Khamsa" meaning "five", the Hamsa Hand is a palm-shaped amulet, the use of which is very common in Asia and other regions.
With two thumbs, no pinky finger at all, and three fingers extended equally, the Hamsa Hand is used as a protective amulet against evil eyes and as a source of good luck, strength, and power.
Why Hang The Hamsa Symbols in Your Home?
There is a very strong belief among common Muslims, Hindus, and Buddhists that hanging the Hamsa Hand symbol in their homes will do them good.
Although you can hang it or place it in any way in your house, most people use two ways of hanging the Hamsa Hand.
Hand Facing Upwards
When used facing towards the sky, the Hamsa Hand serves as a Talisman for protection against the harmful effects of evil eyes.
It is believed that hanging a Hamsa Hand symbol in your house will also help you in avoiding your own pessimistic thoughts.
Hand Facing Downwards
The Hamsa Hand will open the doors of happiness and allow the entrance of good vibes when hung in a way that the fingers point towards the Earth.
This position of the amulet is also believed to improve fertility and can help people struggling with starting a family.
No matter how you hang it, the Hamsa Hand will not harm you in any case but it will surely benefit you somehow.
The right way to place Evil Eye
Why Hang The Hamsa Hand At Your Front Door?
There is a popular opinion that hanging a Hamsa Hand symbol at the front of your front door will not let any bad energy enter your house.
It will reflect all the bad vibes and keep your house and family members safe from the deteriorating effects of the bad energy and evil eyes.
The most preferred location for placing the Hamsa Hand at your front door is on the top of the front door so that it is easily visible to anyone entering the house. 
However, you can also hang it on either side of the door. The location as such doesn't affect its capability to wipe away your troubles and problems.
Why Hang The Hamsa Hand at Your Home Driveway?
Hang the Hamsa Hand symbol in your home driveway or any passage that you use to park your vehicle.
Using the Hamsa Hand symbol amulets in your driveway or even inside your vehicle can help you prevent any sort of mishap or accident. It will help you stay safe even when away from home.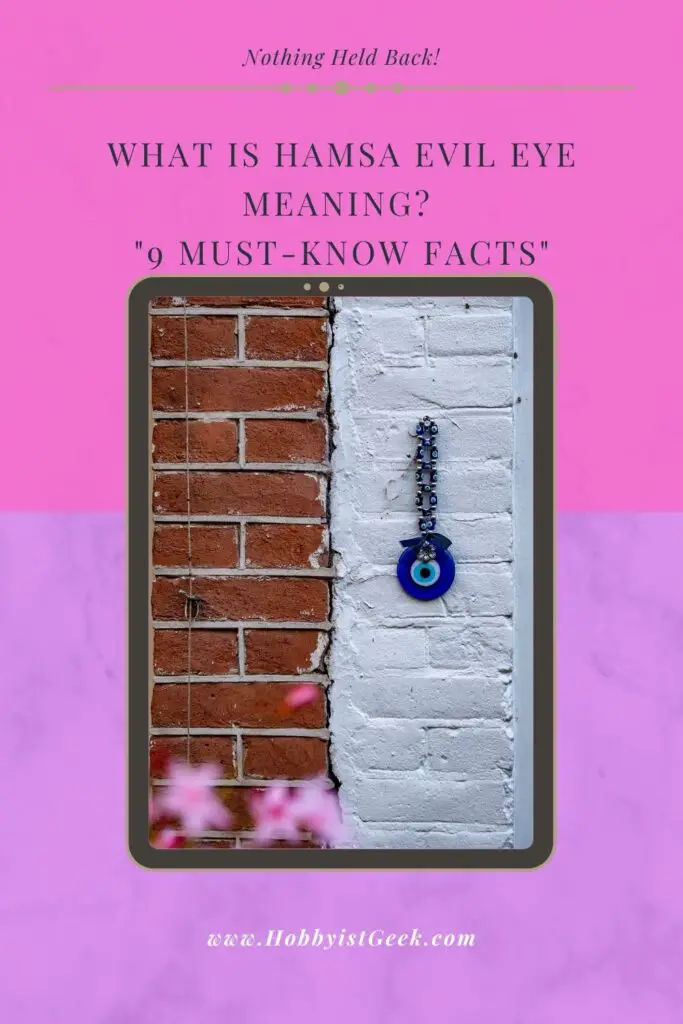 Why Hang The Hamsa Hand At Your Bed?
Women across different religions and cultures believe that having a Hamsa Hand symbol above your bed or anywhere in your bedroom can help women in conceiving and improve the fertility of both men and women.
It is also believed that if a married couple wears the Hamsa Hand jewelry or places such amulets in their bedroom, it will help them develop a bond of loyalty and patience.
Why Hang The Hamsa Hand At Your Workplace?
Along with your personal life, the Hamsa Hand can prove to be very beneficial for your professional life too.
The use of the Hamsa Hand symbol at the office has mysteriously an excellent effect on your work relationships. It will help you achieve your goals, set new market trends, and be more confident about your work.
Why Hang The Hamsa Hand On Your Wall?
Other than your bedroom, you can also hang the Hamsa Hand symbol on the walls of the living room or sitting room or anywhere where your family gathers and sits together.
This will help your family members develop affection and feelings of respect for one another.
You can also hang the symbol in your guest rooms so that it may take away any bad luck brought by them. It can help you in avoiding the deleterious effects of the evil eye.
Final Thoughts On… Where To Hang Hamsa Hand In Your House? "9 Facts You didn't Know"
The use of any Talisman or amulet is your choice. Do it if it makes you feel good, and if you don't feel comfortable about it, don't use it.
The Hamsa Hand symbols are now available everywhere in different unique styles.
If you believe in good luck and bad luck, get yourself a Hamsa Hand Talisman. Get a matching Talisman according to the theme of your house.
If you liked reading Where To Hang Hamsa Hand In Your House? "9 Facts You didn't Know" you will love reading What is the difference between an amulet and a talisman? "Explained"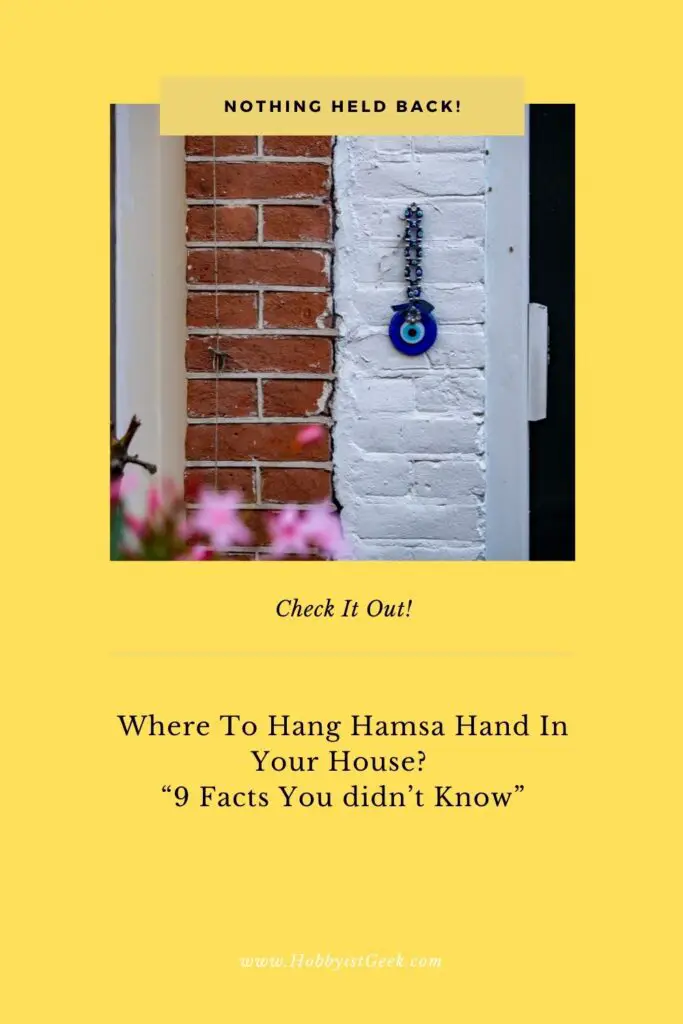 Freanquely Asked Questions
Now, let us quickly go through some of the most frequently asked questions about why you should hang the Hamsa Hand in your house.
Where did the Hamsa Hand originate from?
The Early use of the Hamsa Hand was seen back in ancient Carthage (modern-day Tunisia) and ancient North Africa. Many artifacts of the Hamsa Hand from the Mesopotamian era were found too and are now parts of historical museums.
Which cultures or religions permit the use of the Hamsa Hand symbol?
Almost every religion has contradictions regarding the permission of usage of this amulet, however, the use of this amulet is common among Muslims, Jews, Buddhists, Christians, and Hindus.
Does hanging the Hamsa Hand upside down lead to misfortune?
No, it doesn't. You may hang it anyway, it will just benefit you differently according to the way of hanging. However, it will not harm you in any way.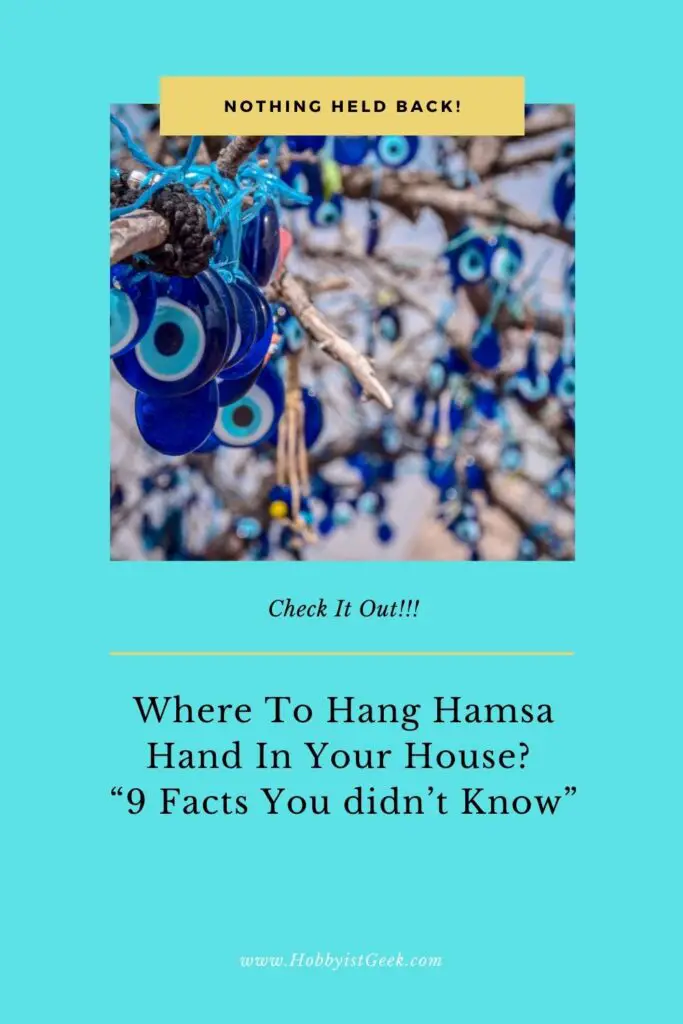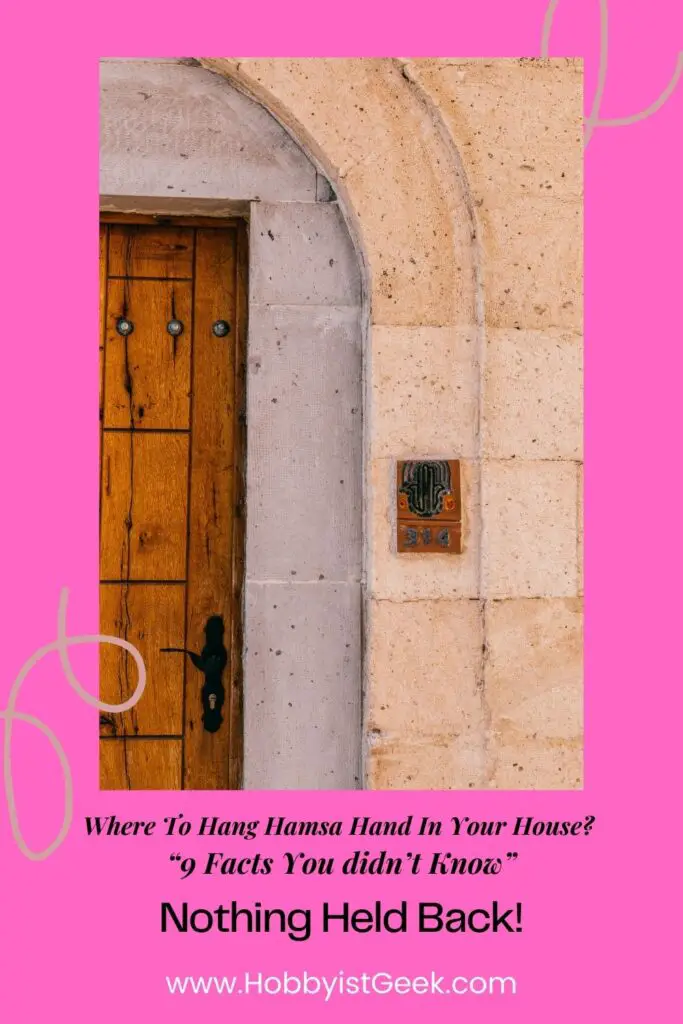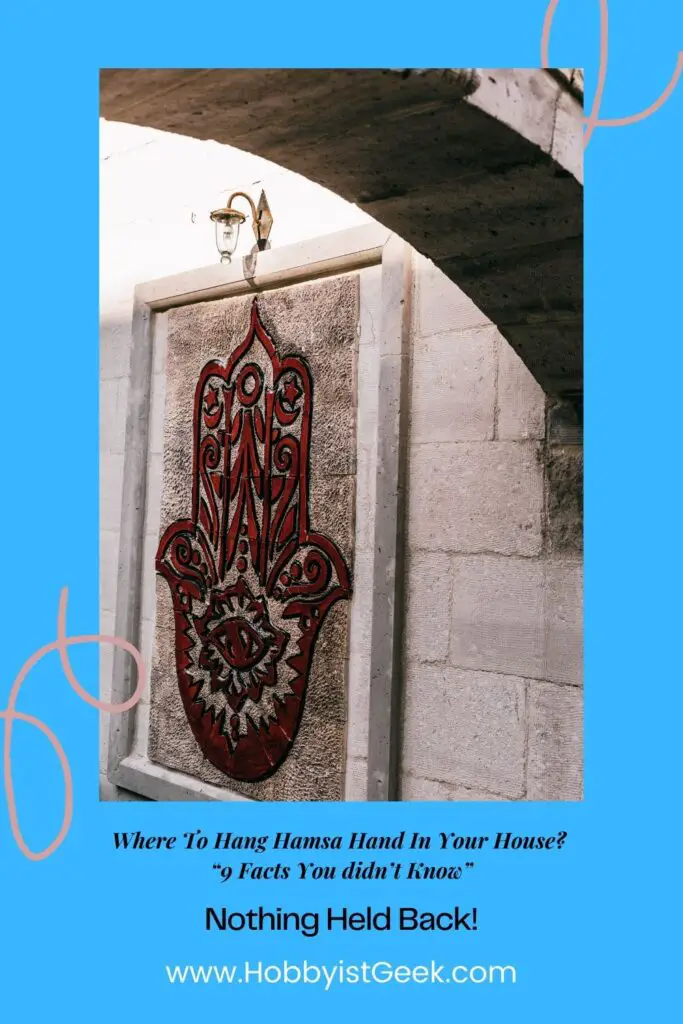 Sources
https://consciousitems.com/blogs/practice/hand-of-fatima#:~:text=A%20popular%20option%20is%20to,do%20this%20is%20with%20jewelry
https://findanyanswer.com/where-do-you-hang-a-%09hamsa-handhttps://www.outofstress.com/hamsa-hand-meaning/