How To Use Crystals For Beginners? All You Need to Know
We will cover How To Use Crystals For Beginners? All You Need to Know. Crystals are perhaps some of the most mysterious objects on planet earth, they have fascinating written all over them and they offer infinite opportunities in many areas.
That sounds like a perfect material to incorporate into our electroformed jewelry!
There are many different crystals out there, and it's easy to get lost in the complex world of crystals, especially if you're a beginner that's just looking to electroform some cool jewelry!
I want to answer the question How To Use Crystals For Beginners? All You Need to Know
How to use crystals for beginners? Using crystals can aesthetically enhance your electroforming jewelry like no other.

There are many different types of crystals such as quartz. Crystals radiate energy that comforts people and is therefore perfect for use in jewelry.

They are also perfectly usable in the electroforming process, as long as they're properly sealed to prevent damage.
In this article, we'll provide you with the ultimate beginner guide to crystals for beginners!
We'll cover everything you need to know about these precious gems, and after reading you'll be a real crystal expert! So, without further ado, let's jump straight into the action!
*Disclaimer: This article contains affiliate links. That means that I am awarded a small commission for purchases made through them, at no added cost for you.
What Do Crystals Do?
Crystals are of course gorgeous materials from planet earth. In the first place, they can significantly enhance the look and feel of your electroformed jewelry.
They come in all shapes, sizes, and colors and can be used for pretty much infinite purposes.
They can also be incorporated into almost any jewelry type such as earrings, bracelets, or necklaces. No matter what jewelry type you choose, there'll certainly be a crystal suitable for it!
Other than purely aesthetical purposes, crystals are also said to radiate off energy. This may sound a little odd, but it's proven that people feel more comfortable when they're in the vicinity of crystals.
While this isn't the focus of today's article, it's a nice added benefit, especially when we incorporate crystals in jewelry!
Crystals For Manifesting ✨ Crystals For Beginnhttps://www.youtube.com/watch?v=2fNHslb1kZwers 2021
How To Choose The Correct Crystals?
As we've mentioned before, crystals come in all shapes and sizes. Therefore it can sometimes be rather complicated to find the crystal that suits your project.
Especially when electroforming crystals it's important to find the right types of crystal for the occasion to avoid any unwanted surprises from ruining our electroforming pieces!
So what should you look for when choosing the right crystals for electroforming?
The first thing you'll be looking for when working with crystals is the size. Crystals can vary greatly in size, and when incorporating them into our jewelry designs we don't want them to be too big as that isn't comfortable to wear.
Another obvious thing to look out for is the crystal's authenticity. As with anything valuable, crystals are often faked, and you should always get your crystals from a reliable source! Then last but not least, you should choose the correct shape.
Crystals can come in a large variety of natural shapes ranging from clusters and points to spheres. Choosing the right one for the job is essential to enhance the looks of our jewelry piece!
What To Do When You First Get Crystals?
Now that we know what to look out for when choosing our crystals it's time to take it to the next step, receiving crystals!
You'll want to take proper care of your precious materials right from the start to avoid any damage that could become a pain later on. So, what to do when you first get your crystals?
The first thing you should do when you get your crystals is the cleansing process.
This has two purposes, first of all, it simply cleans the crystal making it easier on the eye and therefore better for jewelry use, and secondly, it's supposed to reset the crystal's energy.
The way you should cleanse your crystal largely depends on the type of crystal we're dealing with, but more on the cleansing process later!
How Do You Activate Crystals?
Another important step in the preparation of your crystals is the activation process.
This is where we transfer our energy into the crystal to achieve the comforting effect that we're after.
Once again, the means of activation may seem strange but studies have shown the comforting working of crystals to be true so we'll show you how to activate your crystals!
There's plenty of ways to activate your crystals. The first one being interaction.
This may seem odd, but singing, talking, and touching the crystal transfers our energy into the material, therefore, activating it!
Crystals can also be activated by placing a circle of already activated crystals around them to create a so-called activation field.
What Are The Benefits Of Crystals If You're A Beginner?
As we've discussed before, crystals hold many benefits, especially in the process of electroforming jewelry pieces.
Let's take a look at how crystals can pose a benefit to beginning electroforming artists out there!
First of all, crystals are easier to work with than some other organic materials such as leaves for example.
This allows even the most novice of artists to create amazing-looking projects using colorful crystals!
Crystals are also really interesting materials, so beginners will have a great entry-level project with all the benefits of a complex and more advanced project!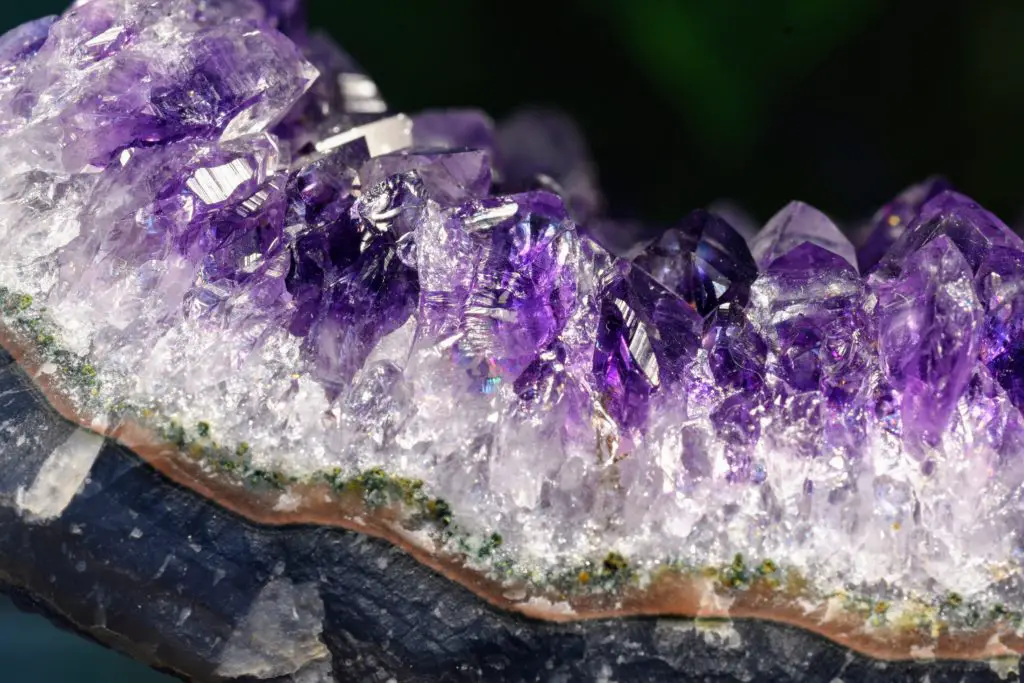 The Best Crystals For Beginners
As we've seen in previous paragraphs, there's no shortage of different types of crystals out there. While this is great, it does make it easy for beginners to get confused.
That's why we've compiled a list of the 7 most beginner-friendly crystals to use in your electroforming projects!
Clear Quartz Crystals
The first crystal we'll be looking at is well known across the world.
Clear Quartz is a beautiful translucent crystal that's perfect for use in jewelry such as necklaces or rings.
It is said to provide focus and concentration when nearby and is therefore perfect to wear when you're working on something important!
Next up, we've got the beautiful purple crystal better known as Amethyst. Amethyst's purple color makes it interesting for use in jewelry.
Amethyst is said to work stress relieving. It is supposed to make you calm and comfortable to clear your mind from any stressful thoughts you might have!
Want more in-depth information on What Is Amethyst Stone Good For?
Pyrite Crystals
Third, on the list, we'll look at Pyrite. This crystal has a gold-like color which makes it perfect for use in other gold jewelry pieces.
It is said to bring wealth and money to your life. Therefore, it is perfect for anyone with a business, or anything that may bring riches.
Rose Quartz Crystals
Next on the list, we have Rose Quartz. This is another variation on the popular Quartz crystal, and it's possible the most beautiful one yet.
Its beautiful bright pink color makes it the perfect crystal to use in female jewelry and it'll instantly make anything eye-catching!
Rose Quartz is known as the crystal of love, and it is said to bring love to anyone or anything in its vicinity!
On the fifth spot, we have Tourmaline Quartz. This crystal is characterized by its variety of patterns and colors.
For every piece of jewelry, you'll be able to find the perfect piece of tourmaline quartz!
Tourmaline Quartz is perfect for clearing your mind and letting new inspiration in. So, if you're ever stuck on something a little Tourmaline Quartz could help!
Want more indepth information for Everything About Tourmaline Quartz Crystals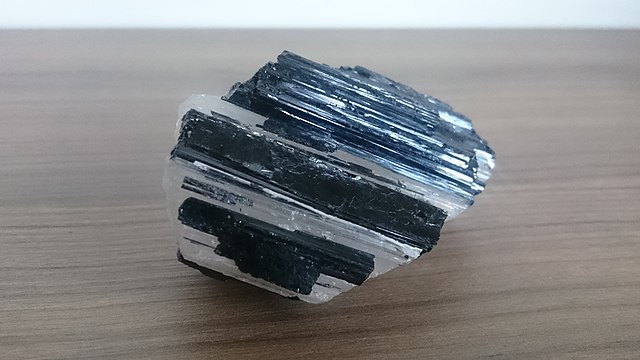 Next up, we have black tourmaline. This crystal has a unique grey color and a special texture. Therefore, it's perfect to use in precious pieces of jewelry such as rings.
Black Tourmaline is said to protect you from negative energy coming from other people. It can create a protective shield around you and is therefore perfect to always wear with you in the form of jewelry!
Please Check Out This Article On Black Tourmaline Crystal Benefits (Explained)
Shungite Crystals
Last but definitely not least, we have Shungite. This deep black crystal is almost hypnotizing. Its black look immediately draws attention.
It is said to form a boundary between nature and technology and is perfect to wear in today's technical environment!
Any of these crystals can be bought from https://crowncrystals.online/hobbyistgeek!
HEALING CRYSTALS SET, 17 pc. Premium Chakra Crystals Box for Beginners, Energy Crystals for Witchcraft, Meditation Accessories. Crystals and Healing Stones, Chakra Stones Sage Smudge Kit with eGuide
How To Cleanse Your New Crystal
This leads us back to the cleansing process. When we first get our new crystals we should cleanse them, but how does this work? Let's take a look at the cleansing process!
There are many different ways to cleanse your new crystal. The method you choose all depends on your personal preference and the crystal you're working with.
For hard crystals such as quartz simply submerging them in water, or saltwater can cleanse it. Other crystals can be cleansed through natural light or even sound!
Crystal Kits For Beginners
Getting started in the world of crystals can be quite difficult. That's why crystal kits for beginners are a thing. Let's take a look at some of those kits!
First off we have this crystal starter kit on Etsy. This is a great deal as you get 10 precious stones for a great price to get started! All of these crystals are perfect for any purpose and the kit holds loads of positive reviews. It can be bought here: https://www.etsy.com/listing/796579613/crystal-set-beginner-10-starter-stones?ga_order=most_relevant&ga_search_type=all&ga_view_type=gallery&ga_search_query=beginner+crystal+kit&ref=sr_gallery-1-1&from_market_listing_grid_organic=1&bes=1
Another great crystal kit for beginners can be found on Amazon by Tesh Care. This kit offers 17 precious crystals and is perfect for any purpose. The packaging is nice and professional, and reviews are more than positive. It can be bought here: https://www.amazon.com/Collection-Colorful-Gemstones-Pendulum-Bracelet/dp/B07NXZMH6Y?ref_=ws_cp_8af62e5b633dd650ce38_p_1_t_p
All of these crystals can also be bought individually from https://crowncrystals.online/hobbyistgeek!
What's The Secret To Storing And Charging Crystals
Taking good care of your precious crystals is incredibly important, both for the look and the energetic purposes. But how do you take proper care of your crystals?
It is recommended to store your crystals individually in pouches or bags, this prevents any damage like chipping. It is preferred that these containers are made of organic material as this retains the crystal's charge!
Final Thoughts… How To Use Crystals For Beginners? All You Need to Know
All in all, the world of crystals is very fascinating. Crystals hold many different purposes and they're perfect for use in electroformed jewelry.
Their energetic properties are fascinating, and crystals are a great place for beginning electroforming artists! My hope is that I covered and answered the question How To Use Crystals For Beginners?
My goal was to answer the question How To Use Crystals For Beginners?
All You Need to Know in this article. Thank you for reading and good luck working with crystals!
If you liked this article please check out What Is Opal Gemstone Good For?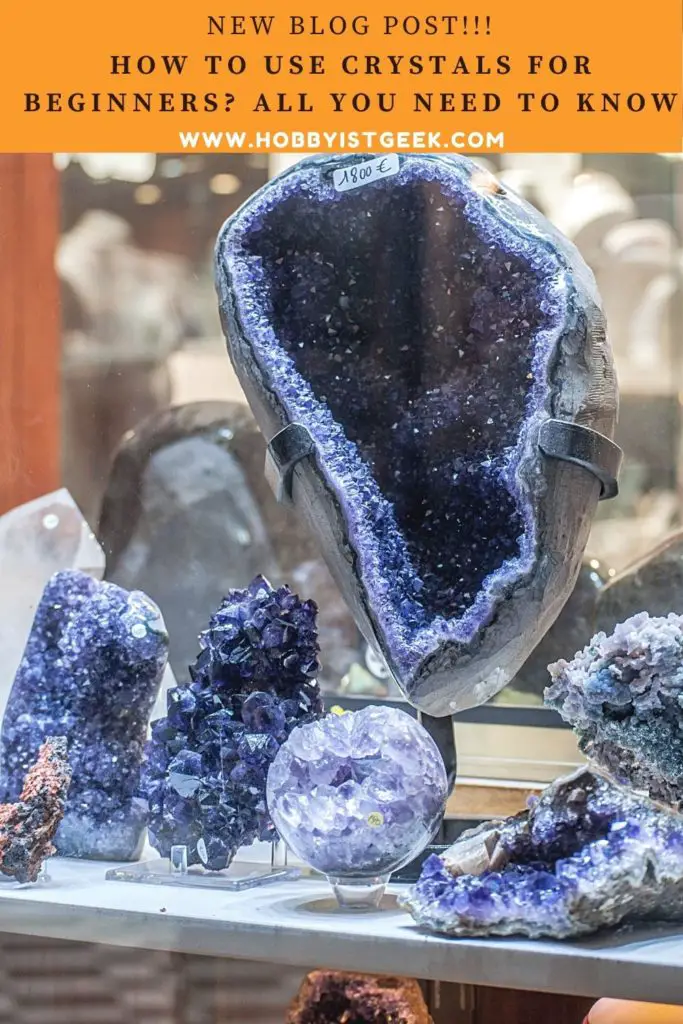 Sources In MLA Format
*, Name. "Where To Buy Crystals For Electroforming." Electroforming Artist, 4 Dec. 2020, electroformingartist.com/buy-crystals-for-electroforming/.
Askinosie, Heather. "9 Best Crystals For Beginners To Keep At Your Desk." Goop, 11 June 2021, goop.com/wellness/spirituality/best-crystals-for-office-desk/.
"Crystal Set Beginner 10 Starter Stones." Etsy, www.etsy.com/listing/796579613/crystal-set-beginner-10-starter-stones?ga_order=most_relevant&ga_search_type=all&ga_view_type=gallery&ga_search_query=beginner%2Bcrystal%2Bkit&ref=sr_gallery-1-1&from_market_listing_grid_organic=1&bes=1.
Shine, Teketa. "How to Cleanse, Charge, and Activate Healing Crystals." Healthline, Healthline Media, 20 Sept. 2018, www.healthline.com/health/how-to-cleanse-crystals#visualization.