Should I Buy An Electroforming Kit For Beginners?
Should I Buy An Electroforming Kit For Beginners? We will be answering the question "Should I Buy An Electroforming Kit For Beginners?" Electroforming, it's the hobby we all know and love, and each and every one of us has started somewhere at some point.
Electroforming can be a tricky field to start out in, luckily today's market is saturated with complete beginner kits for electroforming, but are they worth it or just a money scam? And what do they contain?
Here is the answer to the question "Should I Buy An Electroforming Kit For Beginners?"
Should I buy an electroforming kit for beginners?

This of course depends on your current skill level, but to become familiar with the beautiful art of electroforming a complete beginner kit can be quite useful.

As you progress, you'll find yourself longing for more, but it's definitely a great starting point!
In this article we'll take you along through the world of electroforming kits for beginners, we'll tell you everything you need to know from the best kits to their contents! So, without further ado, let's dive right into it!
Please share on Pinterest.
Why Do You Need An Electroforming Kit?
It might be tempting to dive into the deep end right from the get-go, however in an art as intricate and complex as electroforming that might not be the way to go! Why do you need an electroforming kit?
Of course, you don't exactly need an electroforming kit to get started in the hobby, but it can be a great starting point to familiarize yourself with the art, and to see if it's something for you!
Kits offer everything you need to get started for a great price making it perfect for beginners!
*Disclaimer: This article contains affiliate links. That means that I am awarded a small commission for purchases made through them, at no added cost for you.
Did you ever think you could GOLD electroplate your electroformed jewelry?
Great Complete Brush Plating Kit for high-quality, professional gold plating results. KIt includes a Comprehensive Instruction Manual and Unlimited Technical Support.
What Do Most Electroforming Kits Include?
Throughout this article we've been referring to 'complete' electroforming kits, but what makes it complete?
In other words, let's take a look at what we can expect to find in an electroforming kit!
All kits contain at least some basic supplies. Starting with Copper electroforming solution this is of course necessary to form the electroforming environment. Secondly, it'll contain Copper conductive paint to make our piece conductive.
It should also include a Beaker and a Copper anode to finalize your setup! Most kits will also include some kind of Manual or Guide, and the necessary safety supplies such as gloves and goggles.
Some kits will also include a rectifier, which is essential for electroforming, but they can be expensive!
*Disclaimer: This article contains affiliate links. That means that I am awarded a small commission for purchases made through them, at no added cost for you.
Cu MiniForm Power Supply for Electroforming | Small Electroformed Jewelry Rectifier | Learn How to Electroform Jewelry | Electroformer Guide.
What Are The Advantages Of An Electroforming Kit?
As we've seen, an electroforming kit contains many things and can be seen as the perfect entry point into the beautiful art of electroforming, but what advantages does an electroforming kit have to offer? Let's take a look!
Using an electroforming kit has many advantages, the most obvious of which being its beginner friendliness!
With an electroforming kit anyone can get started, no matter your skill and experience level, this makes it the perfect entry-level for people that are looking to check out the hobby without fully committing to it!
Another advantage is its ease of use, the included guide and components make electroforming easier and more accessible than ever before!
Using complete electroforming kits eliminates the need for a lot of research into different electroforming products, therefore significantly lowing the entry-level into the hobby for beginning artists!
All these advantages make it simply perfect for those of you looking to dive into the fun of electroforming!
Electroforming Tutorial Electroforming Kit
What Are The Disadvantages Of An Electroforming Kit?
Of course, something with this many advantages will also have its downsides. After all, nothing can be too good to be true, right?
Let's have a look at the disadvantages associated with electroforming kits for beginners!
First and foremost, using an electroforming kit gives you very limited options. What we mean by this is that you can't really tweak or change anything about the kit, you get what you see, and you have to follow the manual to make it work!
This puts a limit on one of the electroforming's biggest charms, artistic freedom, and constant tweaking!
Another potential disadvantage is the quality of the products in the kit, generally, the kit quality isn't as high as you might want.
Therefore, it's strongly recommended to move on from the complete electroforming kits for beginners as soon as you start to get a little more experienced! This will allow you to open up your artistic freedom and take your electroforming to the next level!
Is It Worth Buying An Electroforming Kit VS Buying Each Component?
This leads us to another important question, what is cheaper, buying everything separately, or buying a complete electroforming kit? Let's do some research into that!
This is of course a difficult question to answer, as it all depends on the quality of the components you buy. Generally, the quality of components in electroforming kits isn't bad, but it's not outstanding either.
If you were to buy all of these components individually it will likely be a little bit more than the electroforming kit. This of course also depends on the price of the individual items, as getting discounts is pretty easy on individual components!
In the end, it won't be too big of a difference, but the electroforming kit saves you the hassle of researching all the different products yourself, while the individual option offers you more freedom. It's up to you!
How Much Does An Electroforming Kit Cost?
Even in the world of electroforming kits for beginners, there's a fiercely competitive market. Let's take a look at three different options, we'll investigate their prices and we'll compare their contents to find the ultimate electroforming kit for beginners!
The first kit we'll be looking at is assembled by GlassDiversionsFrit on Etsy. This kit is priced reasonably, coming in at €300, or $365, it does contain literally everything you need to get started. The contents range from simple steel wool to a complete rectifier and everything in-between! All the essentials such as electroforming solution, copper brightener, conductive paint, and sealant are present. They even come with ways to apply them such as paintbrushes and copper wire! This is truly the most complete electroforming kit you'll find, and you won't need to buy anything else after seeing this! You can buy it here: This ALL-INCLUSIVE Electroforming kit includes the supplies you'll need to get started electroforming many glass beads or other small items.
The second kit we'll be discussing comes from Midas and is known as the Midas 5-amp electroforming kit. This is an expensive kit, setting you back almost $500, or €410. That is expected though from an established brand like Midas, and quite frankly they don't disappoint. The kit is less extensive than the previous one, but it still contains everything you could ever want. Including a 5 amp rectifier, which justifies most of the high price! All the essentials are there, including safety gloves. You simply can't go wrong with this kit, and the 5-amp rectifier can be used later on in your electroforming career as well! It can be found here: MIDAS® Electroforming Kit with 5-Amp Rectifier
Last but definitely not least, we'll be looking into the CU electroforming starter kit by enchanted leaves. Another established brand, yet this one is the least expensive on the list. The price is the main selling point of this kit, but it's important to note that for this price there's NO power supply included! A power supply can be added it is still the least expensive on the list! It includes all the bare essentials and an electroforming guide, this kit is perfect for beginners looking to get their first taste of the hobby! It can be found here: CU electroforming starter kit
Final Thoughts… Should I Buy An Electroforming Kit For Beginners?
All in all, electroforming kits for beginners are the perfect starting point for beginners! Electroforming can be a difficult hobby to start with and kits drastically lower this entry barrier!
Once you get a little more experienced in the field of electroforming you can always decide to step it up a notch and start to use your knowledge outside the boundaries of your kit! Thank you for reading and good luck starting with your electroforming kit!
Electroforming: The Ultimate Guide Check It Out!
Click here to see if Electroforming is a good choice for beginners? 2021
Please share on Pinterest.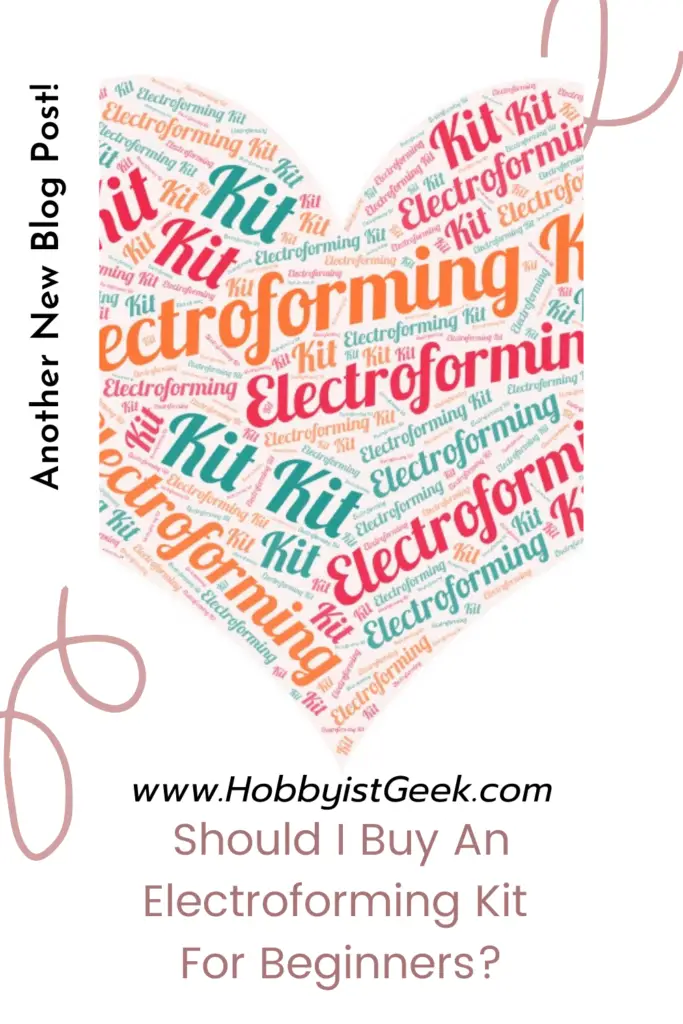 Sources In MLA Format:
*, Name. "Should You Buy An Electroforming Kit?" Electroforming Artist, 4 Dec. 2020, electroformingartist.com/electroforming-kit/.
"Electroforming Kit." Etsy, www.etsy.com/listing/595425196/electroforming-kit?ga_order=most_relevant&ga_search_type=all&ga_view_type=gallery&ga_search_query=Electroforming%2BKit&ref=sr_gallery-1-1&organic_search_click=1&frs=1.
Witt, Brittany. "Copper Electroforming + What You Need to Get Started." Maker Monologues, Maker Monologues, 15 Dec. 2020, makermonologues.com/blog/2016/7/9/copper-electroforming-and-what-you-need-to-get-started.