What Is The Difference Between Swarovski And Preciosa Crystals? "6 Easy Ways?"
What Is The Difference Between Swarovski And Preciosa Crystals? "6 Easy Ways?" this article will be very interesting to you if you love Swarovski and Preciosa Crystals.
Swarovski is an Austria-based company, and Preciosa is Czech based company.

Both of them are well-known for producing high-quality crystals.

They have a wide range of crystals with amazing and fine colors.

If you are thinking of using an environmentally friendly crystal, then lead-free crystals are also available.
Rhinestone is a diamond simulant originally made up of Rock crystals, but since 1960 crystal glass and acrylics are also used for making it.
So they are Shiny and eye-catching and are great for adding sparkle to accessories.
Rhinestones are imitation diamonds used for making cheap jewelry and decorating clothes, so you can say that they look like diamonds but are not diamonds.
Rhinestones are needed most when making dance costumes, but choosing which rhinestones to buy can be overwhelming.
Swarovski vs Preciosa (honest opinion)
Swarovski Vs Preciosa
Swarovski and Preciosa are two famous rhinestone crystal brands. 
Swarovski is an Austrian company, and on the other hand, Preciosa is a Czech-based company. Both of them are famous for making high-quality crystals. 
These crystals have wonderful sparkle and great depth of shine; however, the Swarovski crystal appears more blue and green.
On the other hand, Preciosa crystal appears more pink and purple. 
When you look at them closely, the Swarovski rhinestone crystals are clearer, and that's why it creates deeper and more intricate shine, but when seen overall, both these crystals have wonderful quality; all the thread holes and facets have clean and nice edges.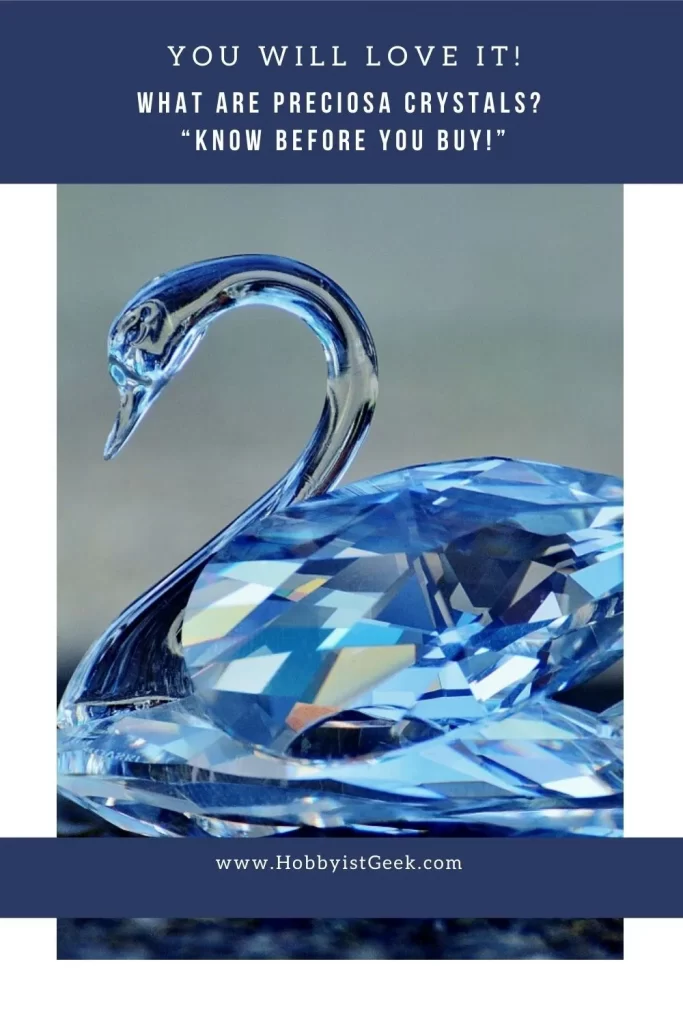 What Is A Swarovski Crystal?
These crystals are man-made gems produced and manufactured in Austria.  Daniel Swarovski,  in 1892 made a machine for making precision-cut,  beautiful, high-quality lead glass crystals by using sand, quartz, and minerals.
The exact proportion of these raw materials used by the company is still a secret.
The manufacturing of these crystals is a specialized process that ensures the highest possible precision, producing brilliant and amazing crystals. 
For almost five generations, the Swarovski family has made the highest quality and most beautiful crystals in the world in their factory located in Wattens, Austria.
What Is A Preciosa Crystal?
It is a luxury brand name known across Europe for its precision-cut lead crystal. T
The company was established on 10th April 1948, and it is now one of the leading producers and exporters from the Czech glass and costume jewelry industries.
Preciosa is second to none, and it is considered to be the producer of the brightest crystal,  and that's why Bohemia, a part of the Czech Republic, has been known for its crystals for centuries. 
It is the oldest crystal company around the globe, and the jewelry is made with fine sterling silver and then overlaid with rhodium vermeil to prevent tarnish and give it a rich silver color.
The Crystal components are supplied in an infinite array of colors, shapes, and sizes to different parts of the world. Jewelers use cut crystal stones and beads in their jewelry, and the designers use them to decorate clothing and fashion accessories.
Is Swarovski Discontinuing Its Products?
This company has been in a bitter family feud for the past few years and struggles to adapt to changing consumer tastes and global competition.
The pandemic has made things worse for the company, with almost 3000 Swarovski boutiques were located in almost empty malls.
Due to this reason, the revenues have fallen by a third of this year. Their major historical manufacturing plant is also struggling.
That's why the company is in the process of letting go of almost 6000 employees or 20% of their workforce from their jobs.
So this means that if all things go according to plan, they will have reduced their inventory of loose crystals and beads. 
They are planning to reduce their distributor base. The Producers, designers, and makers of luxury finished products who signed agreements with the company will be allowed to continue to have products.
So, in this case, if you love Swarovski products and use them in your business or hobby it looks like you will still be able to get all the products you need.  At least for now.
How To Tell If Your Swarovski Crystals Are Real Or Fake?
Swarovski is a respected and reputable brand. Many dealers try to sell fake crystals. 
Unlike other crystals, these are artificial and contain 32% lead content; they have a little resemblance to diamonds, so it might not be easy to spot a fake Swarovski crystal.
So it is recommended that if you don't want to become a victim of Counterfeit Swarovski jewelry, then you should avoid online shopping.
When buying a Swarovski crystal, don't forget to look out for the laser engraved Logo inside the crystal.
The Logo is not on the Bordeaux and Emerald Swarovski crystals products. Because Swarovski crystals are in demand there will always be fake or imitations of the successful Swarovski crystals.
These fake or imitations crystals are made of cheap metal and plastics, and their stones do fall out of your jewelry setting more quickly, the metal used to make these imitations may turn your skin green or give you a rash.
Swarovski crystal is made of hypoallergenic rhodium plate, and there is no sterling silver used.  The crystals are made beautifully with their Precision-cut giving off dazzling sparkles. 
In addition to this, all the Swarovski products will come in the official packaging and an authenticity card.
Every Swarovski decor sticker has a unique 16-digit identification code, and you can easily verify it at the company's official website.
Moreover, the seal hologram effect incorporated in each piece by the company fights against counterfeits and enhances the value of the products.
Do Preciosa Crystals Have A Lead-Free Option?
MAXIMA crystals by Preciosa Is a premium line of crystals.  These crystals are available in more than a hundred colors, and they can reflect 264 rays of light.
These crystals are lead-free and meet all the US and European standards.  in addition to this, they feature a patented Dura-foiling, which offers high resistance to different things such as corrosion, sweat, chlorine, saltwater, and many other issues.
Final Thoughts On… What Is The Difference Between Swarovski And Preciosa Crystals? "6 Easy Ways?"
We found out that Swarovski is an Austria-based company, and Preciosa is Czech based company. It was interesting to find out that Preciosa had a lead-free option for their crystals.
Another interesting fact is that Daniel Swarovski invented the machine for making precision-cut,  beautiful, high-quality lead glass crystals by using sand, quartz, and minerals.
If you enjoyed reading What Is The Difference Between Swarovski And Preciosa Crystals? "6 Easy Ways?" you will love What Color Are Rhinestones? "Nothing Held Back".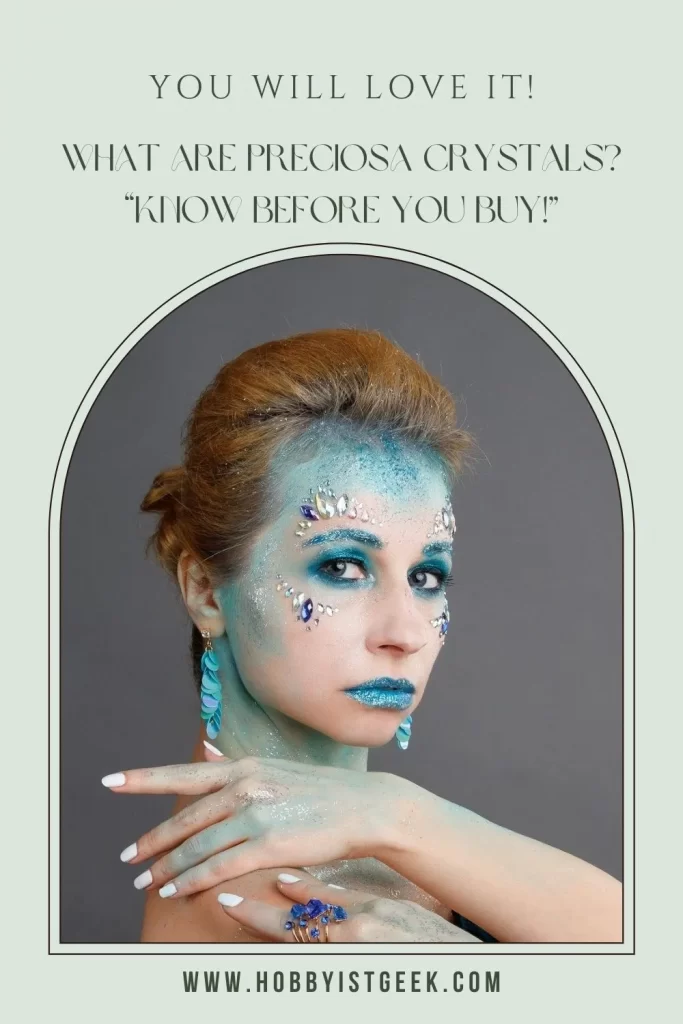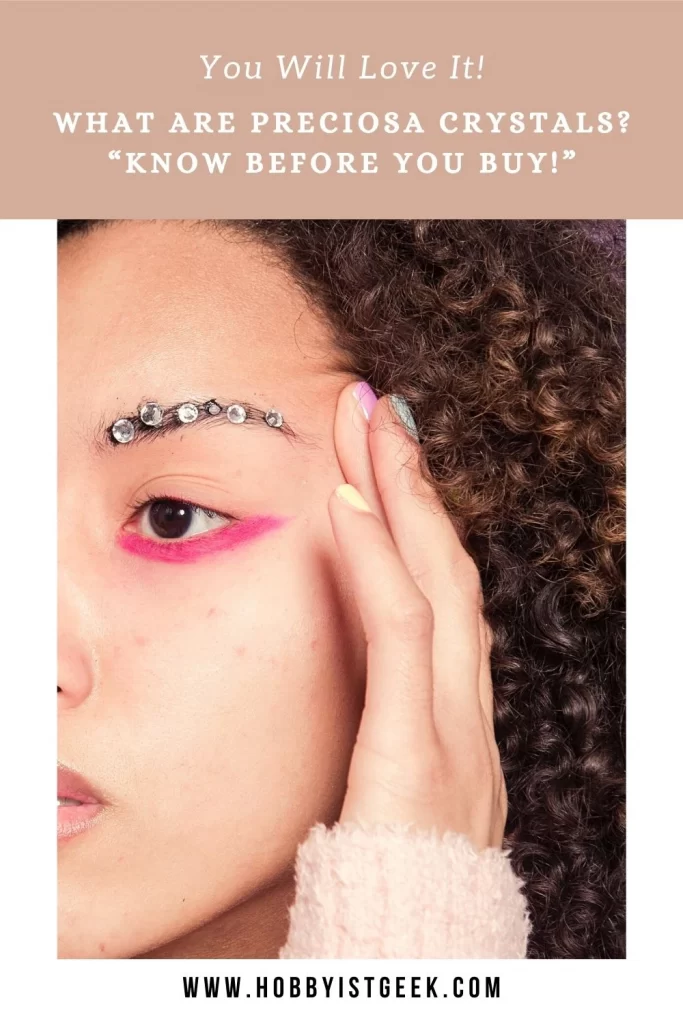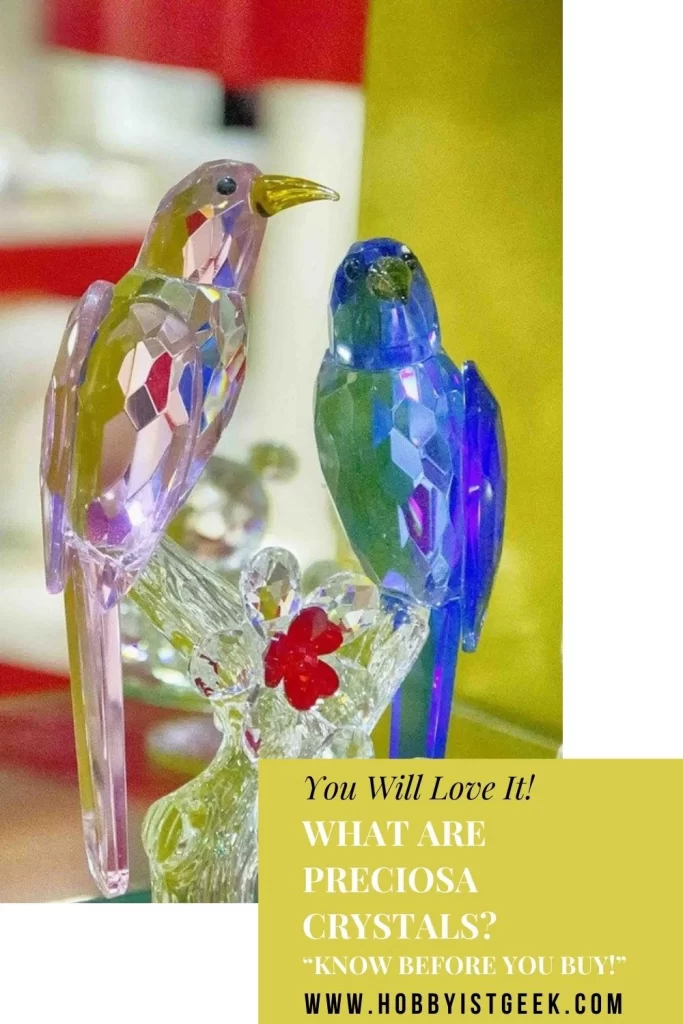 Frequently Asked Questions
Which crystal is clearer in appearance?
Swarovski crystals are designed to the highest quality, and they have a crystal clear appearance when you look closely at them.
Which crystal is more environmentally friendly?
Preciosa is considered more environmentally friendly, and they manufacture a range of lead-free crystals.
Is there any alternative to Swarovski crystals?
As an alternative to Swarovski, Preciosa bicones can be used. You can also choose Preciosa maxima pearls, which is a lead-free range.
Are Swarovski silver crystals made of real silver?
No. they are made up by combining natural minerals and quartz sand. The crystals are cooled slowly and have amazing brilliance, so it seems that they are made up of the original metal.
Sources
https://www.google.com/amp/s/jewelryinfoplace.com/swarovski-crystals/%3famp
https://www.google.com/amp/s/eurekacrystalbeadsblog.com/2021/05/13/what-is-happening-with-swarovski-2021-update/amp/
https://www.sparklybelly.com/preciosa-vs-swarovski-rhinestones-where-to-buy-rhinestones/#:~:text=Swarovski%20is%20an%20Austrian%20based,known%20for%20high-quality%20crystals.&text=These%20are%20both%20crystal%20AB,apphttps://www.bluestreakcrystals.com/blogs/news/preciosa-crystals-v-swarovski-crystals-which-do-you-prefer ears%20more%20pink%20and%20purple
https://www.creativecrystal.com/blogs/inspirations-of-the-month/preciosa-vs-swarovski-crystals
https://markalinojs.wordpress.com/2014/10/27/swarovski-and-preciosa/amp/
https://www.google.com/amp/s/jewelryinfoplace.com/swarovski-crystals/%3famp
https://rhinestonesu.com/blog/maxima-crystals-by-preciosa-4d3503/