Best Electroforming Power Supply "Manufacturer Tekpower"
Best Electroforming Power Supply by Tekpower will be the power supplies we will be reviewing.
What Should One Look for When Buying a Power Supply for Electroforming?
You want a power supply for electroforming that will result in a slow buildup of metal resulting in low voltage (1 volt or less) and an amperage of between 1 to 3 amps you can go up to 5 amps if you are working on larger objects or if you want to electroform many objects at once.
Introduction
Electroforming is a process used to manufacture metal products such as jewelry or copper art and other such items. Many people do it as a hobby and others as a profession. People make copper art, different kinds of jewelry, showpieces, etc., as a hobby for the love of creating unique pieces.
Whenever you're going to perform Electroforming, probably the first thing that comes to your mind is a good power supply. It is indeed very essential to have a good power supply when you're Electroforming or electroplating an object.
Getting a good rectifier/ power supply for your project would be the best choice you could make for great, long-lasting results.
There are certain things you should keep in consideration while buying a power supply for Electroforming so that you don't just end up wasting your money. But most probably, it depends on what work you want it to perform. Check out if it has enough DC, power, adequate size, moderate weight, and fits in your budget.
So, without further delay, let's dive right into the topic. Here are some things you should keep in mind when buying a power supply for Electroforming.  First, let us find out the difference between a rectifier and a power supply.
What Is The Difference Between a Rectifier And A Power Supply?
A rectifier converts AC power supply to DC power and rectifiers are used in the power supply's either linear or switched power supplies.
Throughout this article, I will refer to the power supply instead of the rectifier/ power supply.
| | |
| --- | --- |
| Power: | Choose a powerful power supply if you're going to many electroformed objects at one time or a larger piece. |
| Type: | Choose a DC power supply because you need a direct current to electroform or plate any object. Choose an adjustable and accurate rectifier. |
| Price: | Although the price mainly depends on the budget of your project still, choosing an affordable power supply is always a good option. Go for products priced between $50 to $100, especially if you're a beginner. They will provide you with your required voltage and amps at an affordable price. |
| Size and Weight: | you have a small-scale project, go for a small portable rectifier. These lightweight power supplies are easy to move and can be stored easily. |
To make it even easier for you to get started in your electroforming projects I want to cover a popular brand for beginners Tekpower.
A large number of the electroforming community uses Tekpower products which are easy to use and reliable.
Now, let's discuss some of the best power supplies by Tekpower available in the market for Electroforming.
*Disclaimer: This article contains affiliate links. That means that I am awarded a small commission for purchases made through them, at no added cost for you.
Electroforming – Rectifier/Power Supply Schedule
Best Overall Power Supply:
The Tekpower TP3005T comes with Alligator test leads is one of the best power supplies you can get for Electroforming under $100. Let me explain why.
Features / Advantages:
Variable Linear DC Power Supply which can be used to lower or raise the voltage before applying it to the regulatory circuit
Mode switching option available to change AC to DC and that too without a transformer
Constant voltage and constant current modes
The cooling fan has auto-activation built-in
One-year manufacturer's warranty
| | |
| --- | --- |
| Pros: | Cons: |
| Stable | Small Delay |
| Durable | Slightly Heavy |
| Good for labs, research institutes, R and D facilities, etc. | Smell out of the box was gone after awhile |
| High Precision | |
| Little Noise | |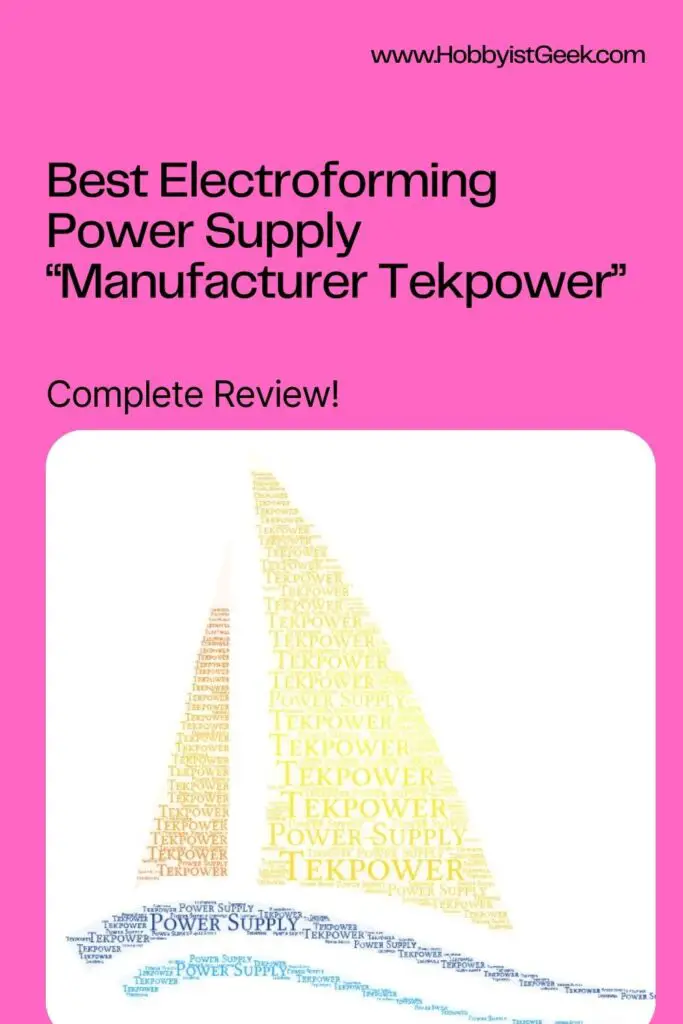 Best Budget and Best Under $50 Power Supply
The Tekpower TP1503C comes with an Analog Display with Alligator Banana Connectors is indeed the best purchase you can make under $50. Let me explain.
Features / Advantages:
Priced at around $30.00 price point, Tekpower TP1503C is the most affordable and economic power supply with a vast number of features as compared to its price
Includes an analog needle voltage indicator
Includes banana plugs and connector cables.
Takes up small space on the workbench.
Low heat
| | |
| --- | --- |
| Pros: | Cons: |
| One year USA warranty | Intermittent function after some time |
| Full Current Load Protection | Use of Molded Plastic |
| Lightweight | Emit odor right out of the box |
| Operate continuously at full load without overheating | Its knobs might become loose |
| Fixed current output | |
| No RF noise | |
Best Runner Up Power Supply:
The Tekpower TP3005P Programmable Linear Type Variable Regulated DC Power Supply, 0-30V at 0-5A, wins the best runner-up. Here's why.
Features / Advantages:
Contains remote control operation through the USB interface
The cooling fan comes with a thermal sensor
The system has an automatic shutdown system to prevent overload
| | |
| --- | --- |
| Pros: | Cons: |
| Current Protection | May require adjustments sometimes |
| Fuse Protection | Poor interface |
| CE certified | Ripple |
| Output Sockets with Insulation Protection | |
| Low noise production | |
Best Power Supply Under $100.00
The Tekpower TP1803D that is Lab Grade Variable Linear DC Power Supply, 0-18V @ 0-3A PC, with Alligator Cable and Power Cord, is my pick for the best power supply you can get under $100.
Features / Advantages:
A very compact and affordable instrument
It can be used for both commercial use and at home/hobby.
DC linear power supply with a stable output
Low ripple and Noise
Lightweight
Best Power Supply Under $200
The TekPower TP1830SB Is an adjustable DC Power Supply 1.5-15V 30A with Digital Display, Linear Output, and is Lab Grade, High Stable, and Low Ripple Voltage Regulator our most costly power supply at around the $160.00 price point, but trust me, it provides the value at its cost.
Features / Advantages:
For professional use or advanced electroform hobbyist
It comes with a 110V DC variable switching power supply
Continuously adjustable output at 0-110V DC
30A max current output
The cooling method comprises a fan to avoid the system from overheating
| | |
| --- | --- |
| Pros: | Cons: |
| Large LCD | Ripple Noise |
| Cigarettes Lighter Plug | Bit costly |
| 1-year warranty | Heavy Weight |
| Fuse protection | |
| Accurate Readout Values | |
Final Thoughts On… Best Electroforming Power Supply "Manufacturer Tekpower"
So, to sum it up, we can conclude that a good power supply is a necessary part of an electroforming project, and all power supplies have their pros and cons. So, it depends on you, the user, to choose the right option for yourself according to your project requirements and budget, keeping in mind the things you would like for this rectifier to perform.
Electroforming: The Ultimate Guide Check It out!
If you're interested in electroforming, you must check out "Electroforming: The Ultimate Guide" on our blog. This comprehensive guide covers everything you need to know about the electroforming process, from the basics to more advanced techniques. It's the perfect resource for anyone looking to learn more about the electroforming process. So, what are you waiting for? Click on the link and start reading "Electroforming: The Ultimate Guide" now!
Frequently Asked Questions
Now, let's take a glance at some of your most frequently asked questions.
Why is it necessary to have a good power supply for Electroforming?
There needs to be a prominent flow of electrons in the system to get the metal ions to be reduced on the metal. A good DC source power supply will do its job perfectly here.
How many amps do you need for Electroforming?
Usually, 1-3 amps are ample to perform Electroforming. However, a current of 5 amp is more than enough when Electroforming large objects. So, for Electroforming, use power supplies with 1-3, 1-5, and 1-10 amp and no more.
How do I know when to change my power supply for Electroforming?
have multiple power supply's in your studio, you should look into adding another power supply. If you want your Electroforming quality to improve or you want to get a larger output of pieces a good power supply is very important.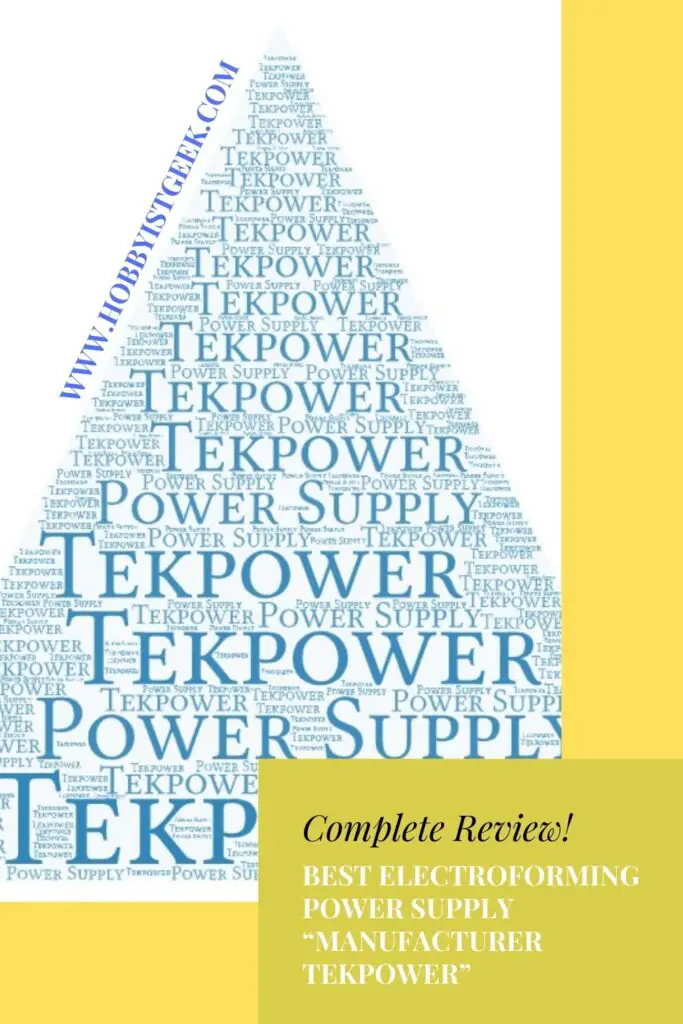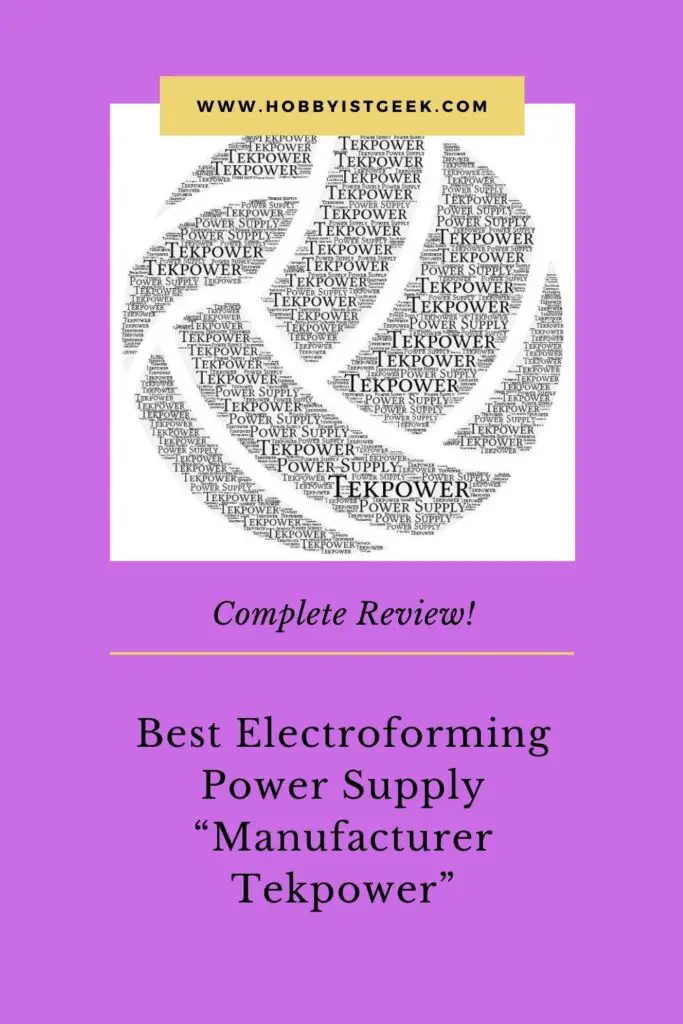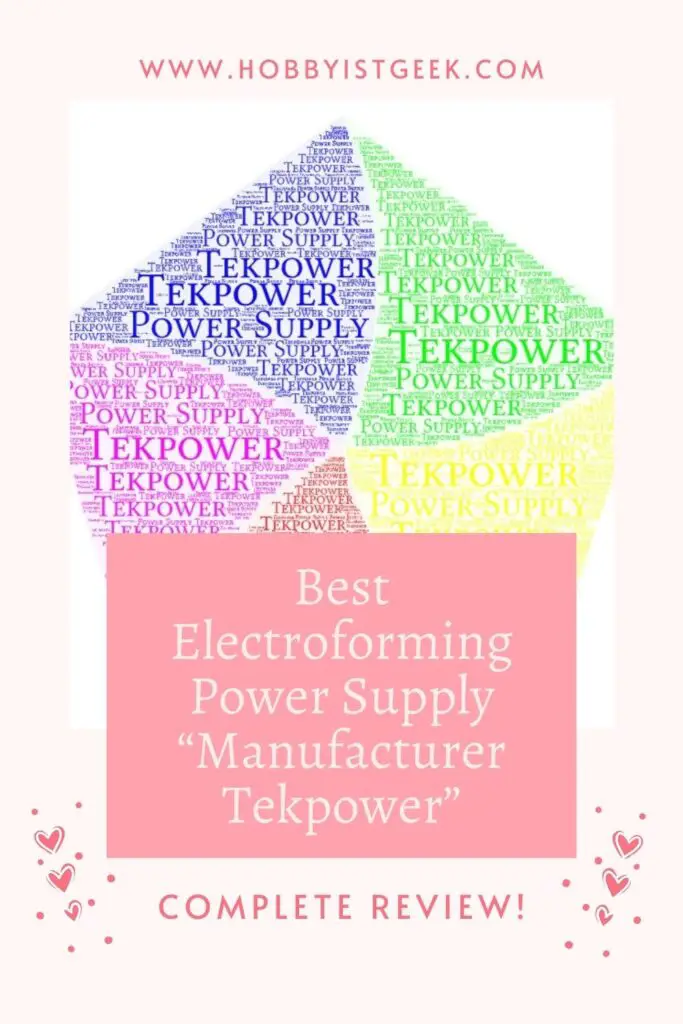 source
htt//electroformingartist.com/electroforming-rectifier/
https://bestreviews.tips/tekpower-lab-power-supplies_696752/